.4
An affordable 40% Ortholinear keyboard, packed with premium features
Group Buy has now ended. Current status:
The new mounting plates have arrived from the manufacturer, and all the issues have been sorted! They're now all ready to go along with the bottom plates.
Firmware is mostly finalised; however I will likely make a few small tweaks between now and when I ship the boards out.
Last thing I'm waiting on now is the PCBs, there were a few small issues regarding component sourcing with shortages and such, however this is all sorted and I'm just waiting for the PCBs to be assembled.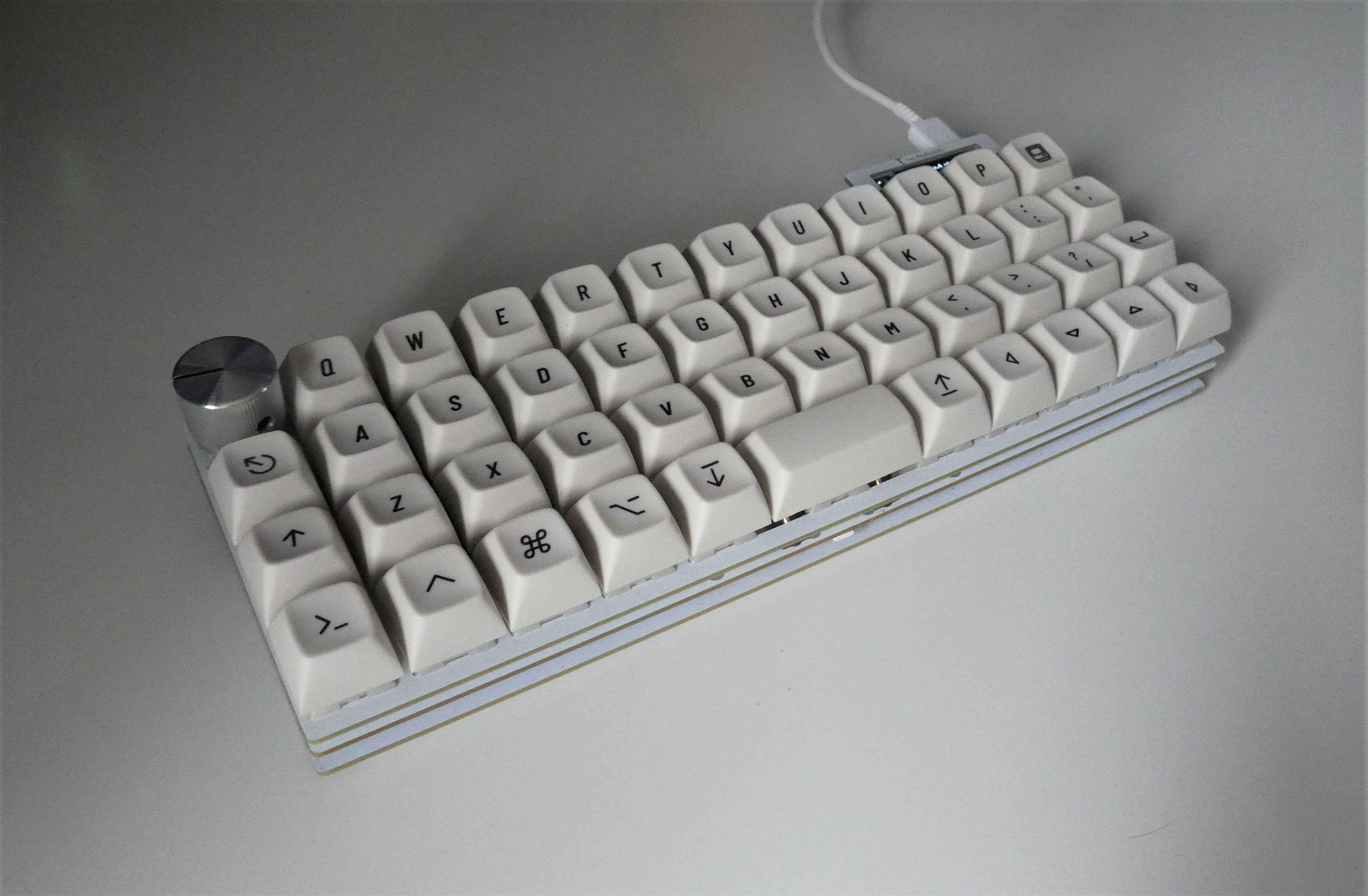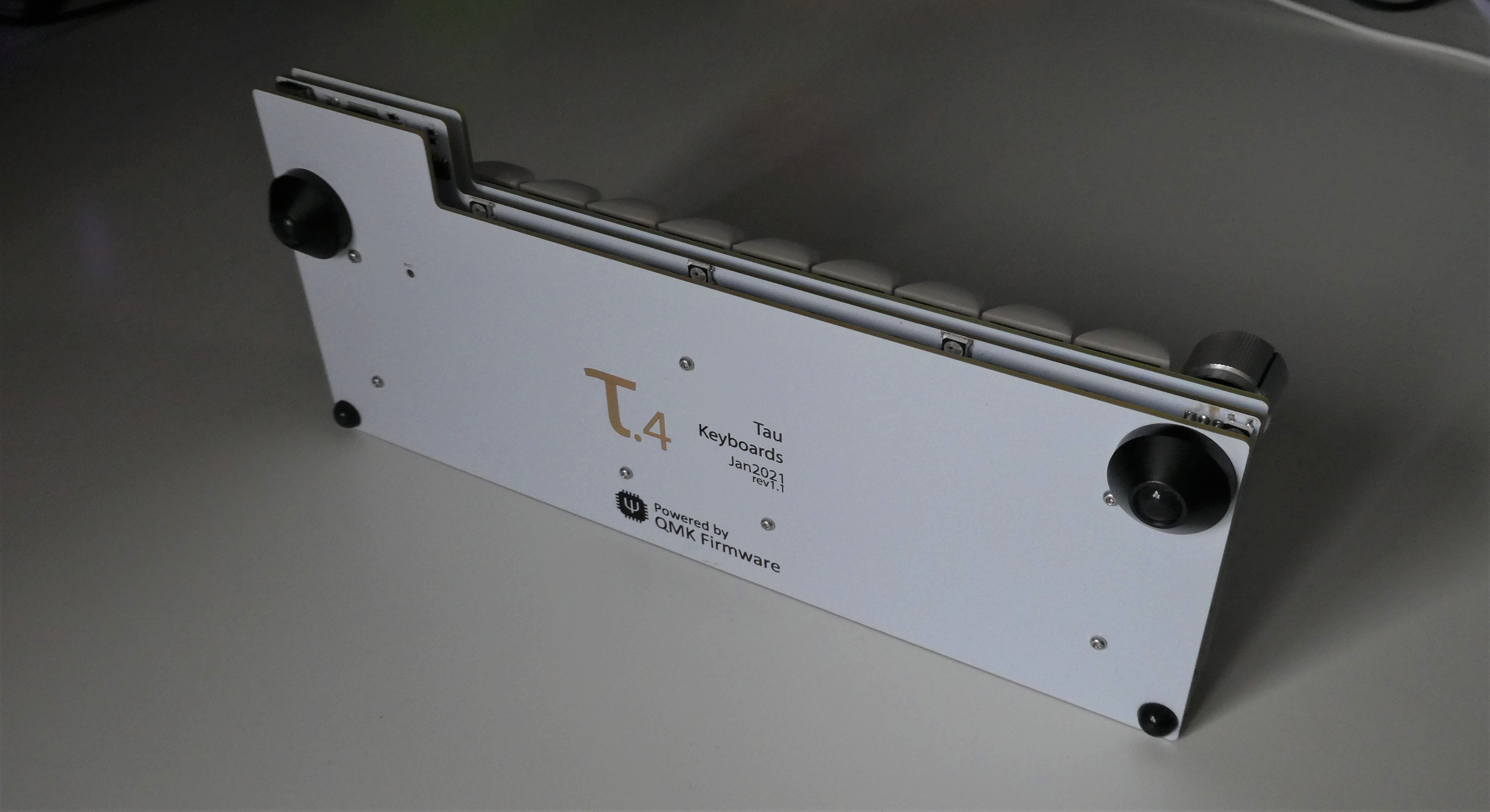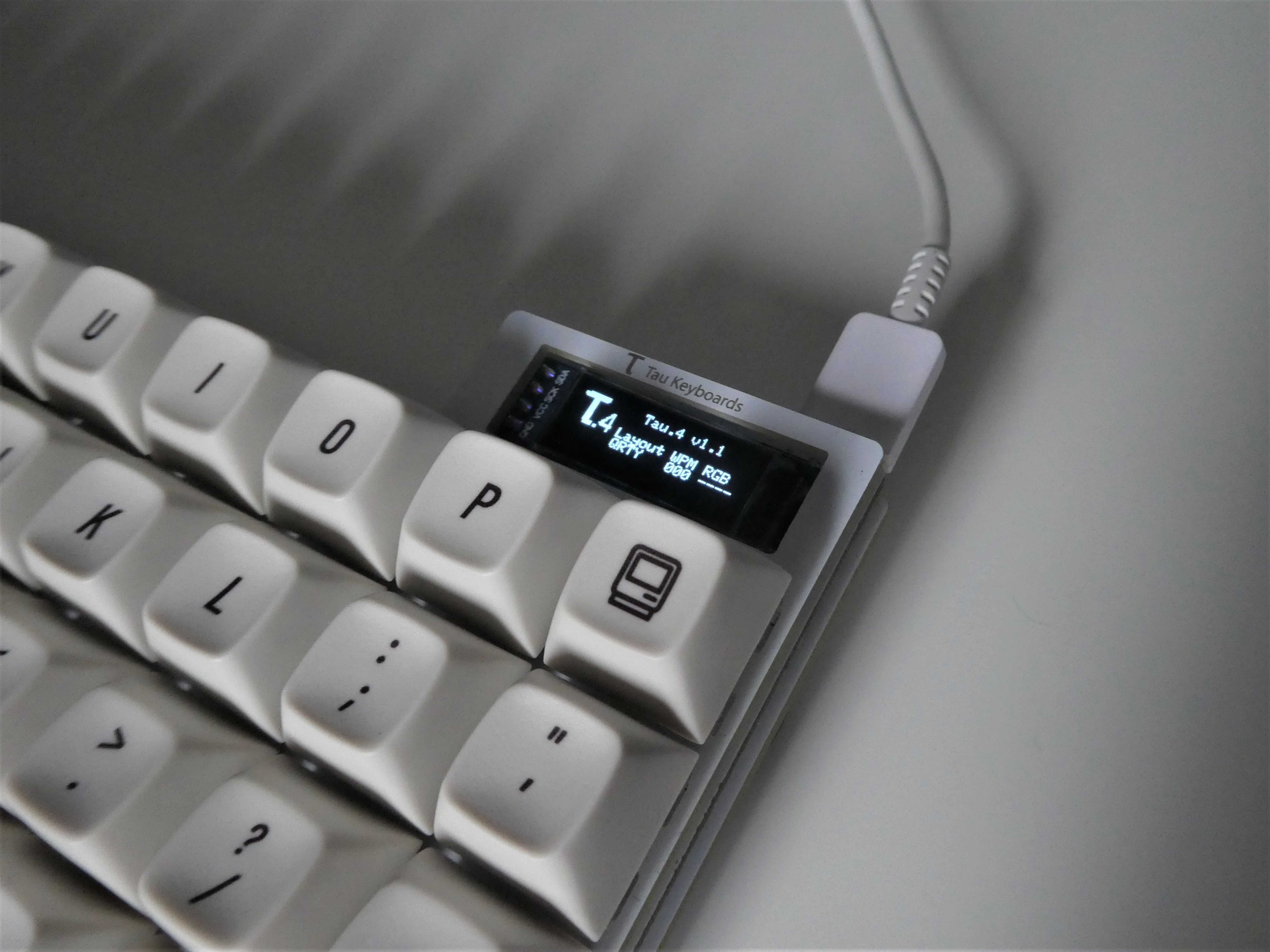 Group Buy Details
The Group buy is now live, and will be open until the 5th March. Prices and kit contents/upgrade options have now been finalised, see below.
There's a max order quantity of 25 units, across both the PCB Only and Kit options. However I will leave the form open after I've reached 25. I'm operating a first come first served system, so if you're not in the first 25 you will be placed on a waiting list in case anyone in the first 25 drops out.
Since I'm running a fairly low volume, I'm just going to be running it through a google form since eCommerce platforms are too expensive. You won't need to submit any personal details through the form, just which options you want and your email, and I'll contact you for payment details, address, shipping costs etc.
And an update on the hotswap options, in case you missed the announcement – after the poll earlier this week, the most popular option was Kailh hotswap sockets, so that's what I'll be using. This means the price has gone up by £5 – to £35 and £55 – since all PCBs will come with Kailh hotswap sockets. I've redesigned the PCB to use them, and everything is ready for production once the GB is done.
The layout

The Tau.4 uses an ortholinear layout, in the 40% size.
Why ortholinear?
Ortholinear layouts lay out all the keys in a perfect grid, which helps reduce strain when typing. Your fingers move straight up and down between rows, instead of at an unnatural angle. The stagger on regular keyboards is a standard from the days of typewriters, and hasn't been changed since. The angle can be unnatural, putting strain on your fingers when typing.
Why 40%?
The 40% size means your fingers never need to move more than 1 key away from the home row, reducing larger movements to access things like numbers and symbols, which can cause strain when typing for longer periods.
Doesn't this mean you lose keys? Where are the numbers?
Thanks to the powerful layers feature of the QMK firmware, all the keys you need are still accessible via the 2 layer keys - Lower and Raise - on either side of the spacebar. With these, you can access all the keys of a full size keyboard, simply by holding one of the keys with your thumb.
Full Default Layout Diagram Here
The features
Mini OLED Info display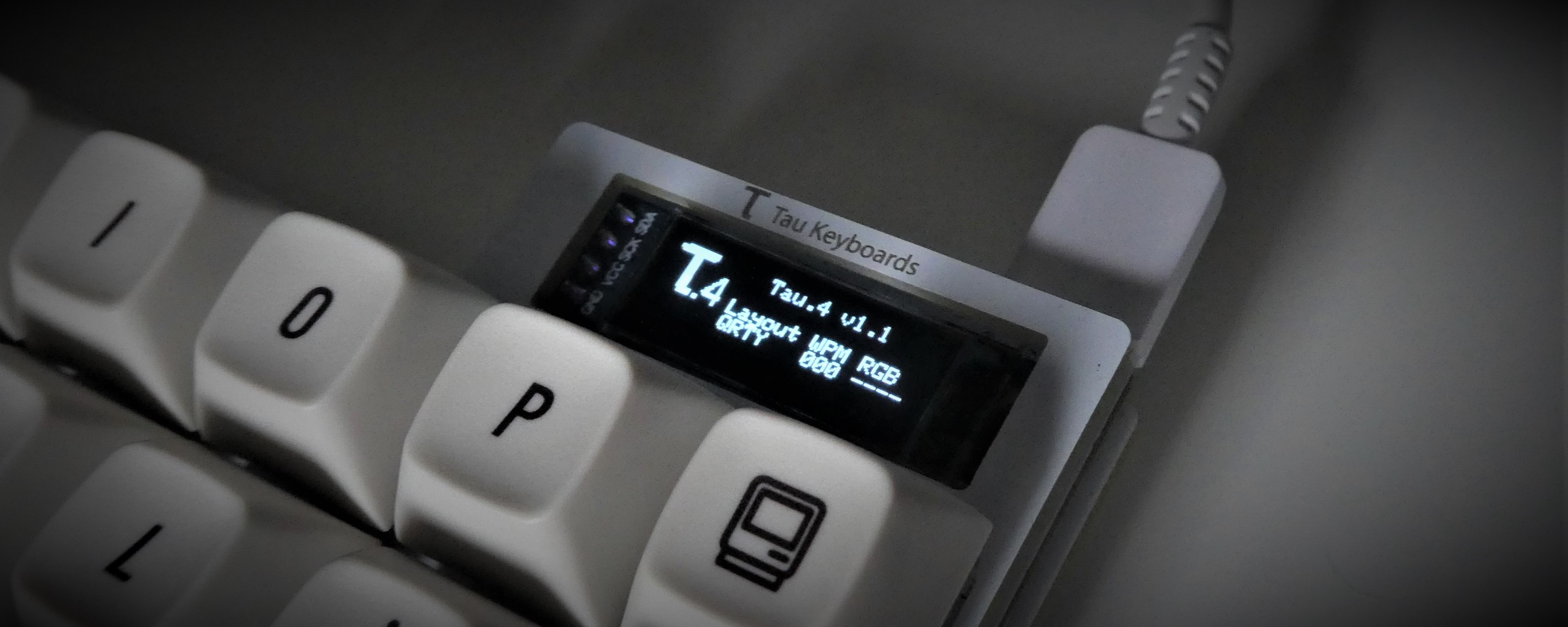 Rotary Encoder Support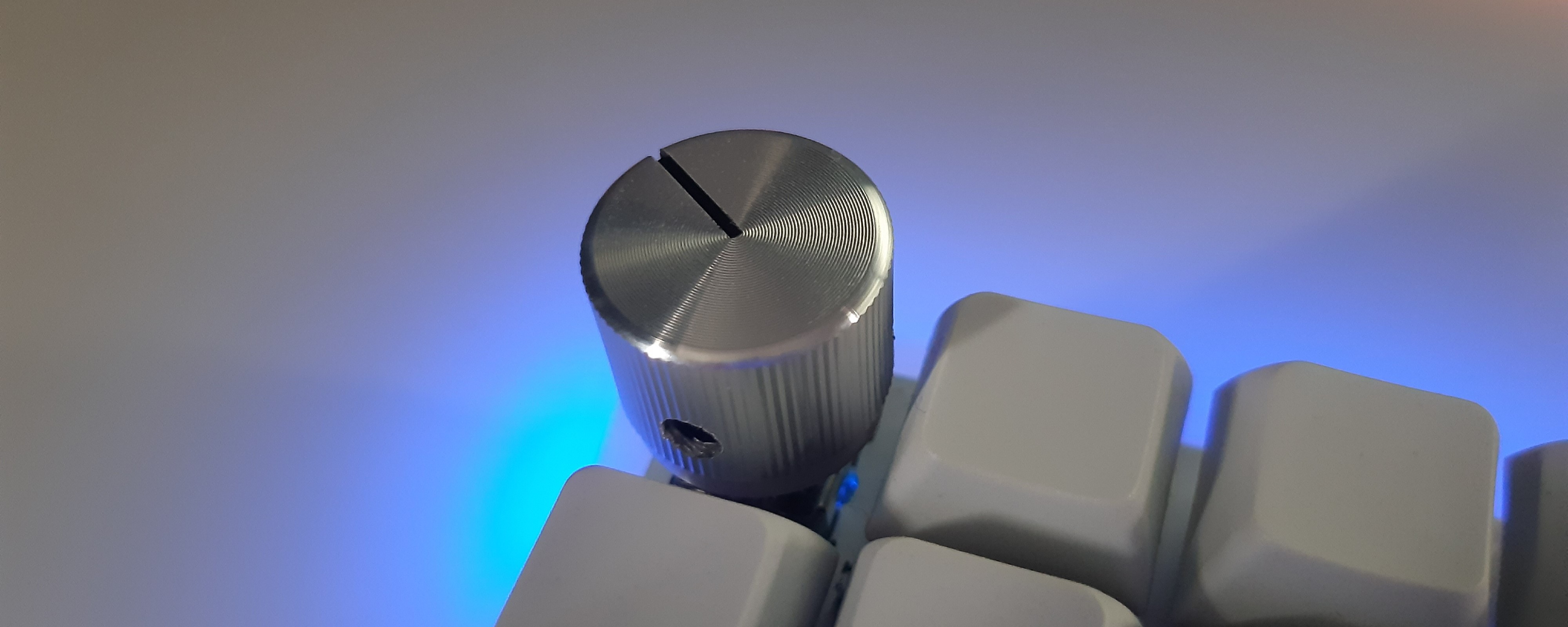 Hotswap sockets

RGB Underglow support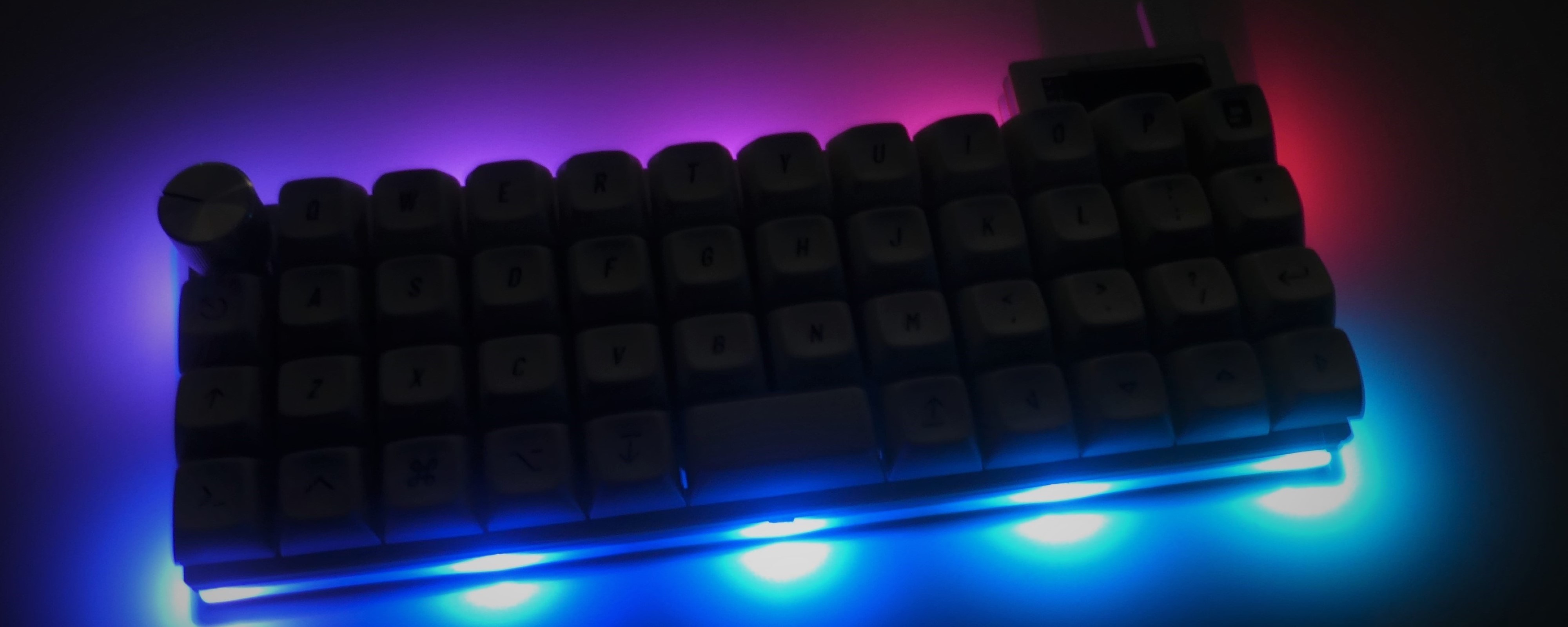 USB Type C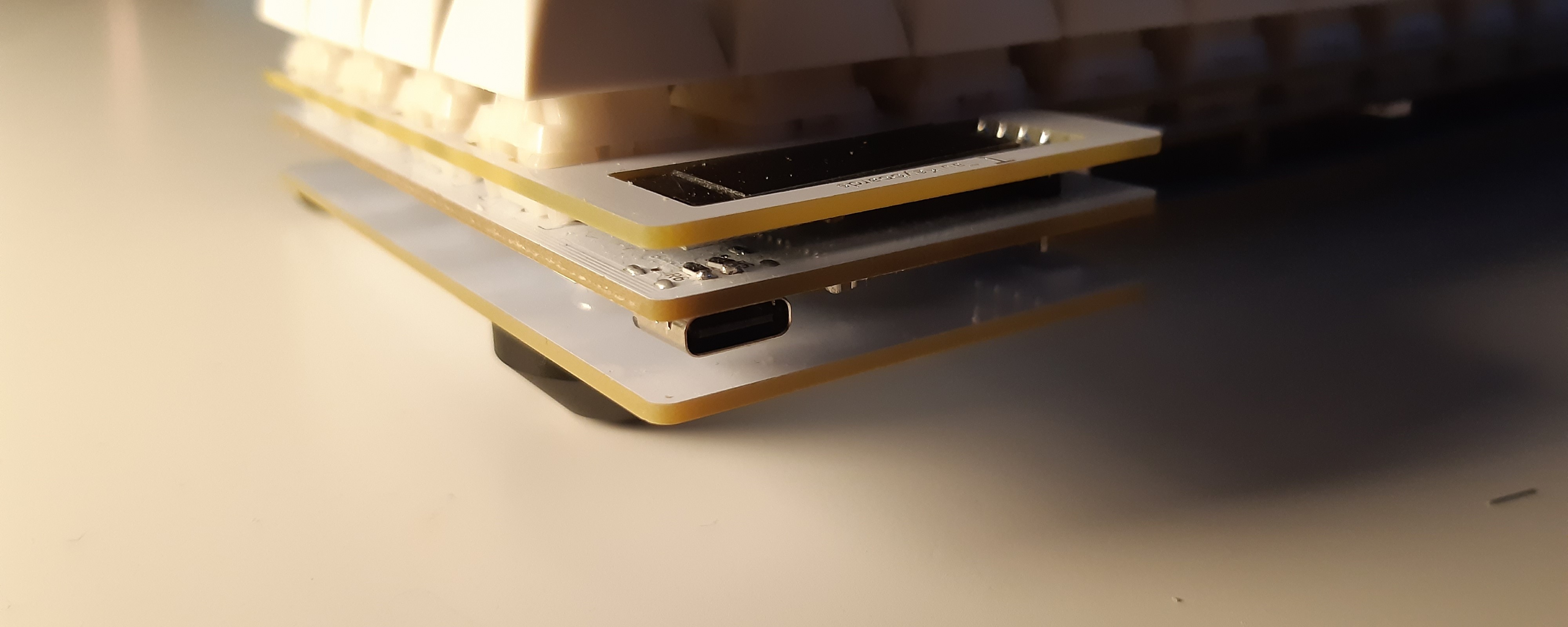 Multiple Layout Options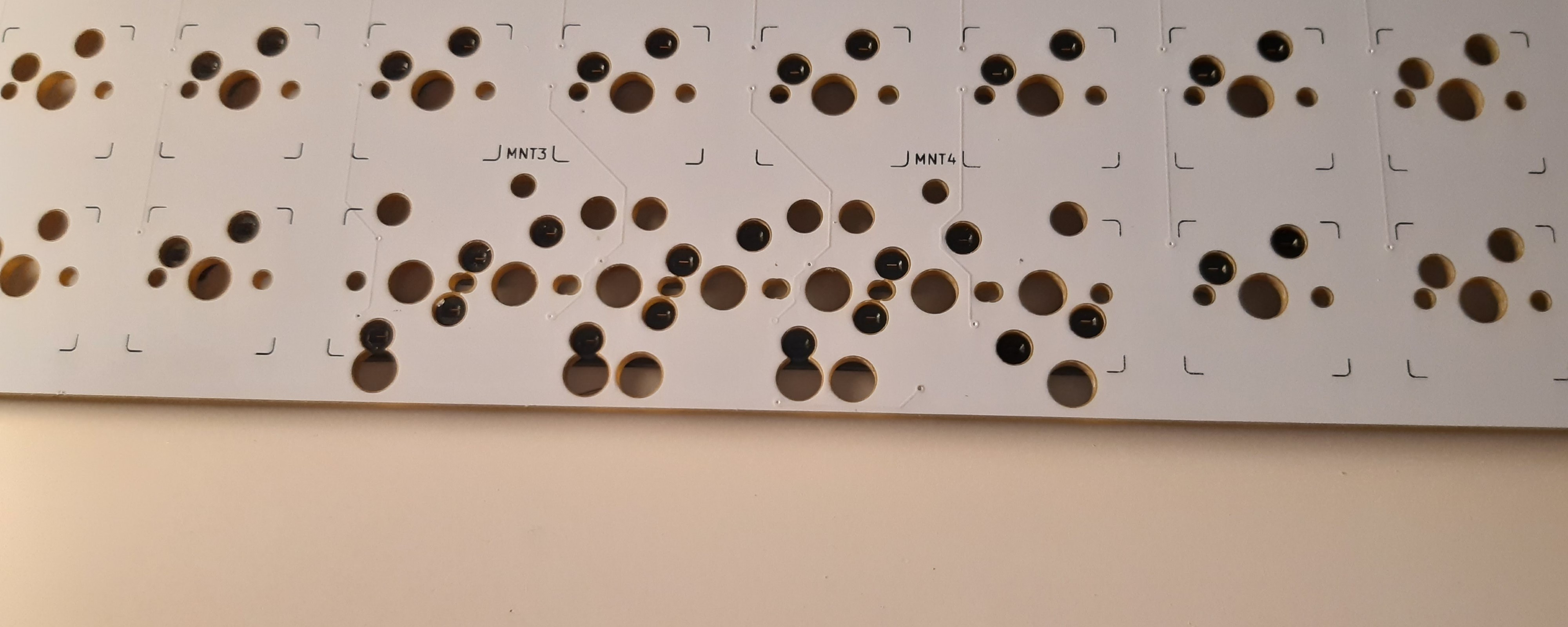 The Tau.4 has a range of powerful features:
OLED Display

The mini OLED display in the top right of the keyboard displays useful information such as the current active layer, current WPM and more, all configurable through QMK.

Rotary Encoder Support

A rotary encoder can optionally be installed in one of 4 locations on the keyboard, allowing controlls such as volume control, scrolling, etc., programmable in QMK.

Kailh Hotswap sockets

The Tau.4 comes with Kailh hotswap sockets, which allow keyswitches to be installed and removed without soldering, making installing, changing or modding switches easy.

RGB Underglow

The RGB upgrade adds 10 underglow LEDs around the edge of the PCB, programmable with various lighting effects and layer indicators.

USB Type C

The Tau4 comes with USB Type C as standard, the modern standard for USB connectors. It's reversible, much more durable than other connectors and the most widely used on modern keyboards. This also means with a USB C to C cable, you can connect to PCs, Laptops, Phones, Tablets and more.

Multiple Layout Options

The spacebar area of the Tau4 has multiple options for layouts - full grid layout for maximum functionality and programmability, one spacebar for the easiest, most standard layout, or 2 spacebars for use with tap-hold layer keys, or wider layer keys.
Pricing
This is the pricing from the GB that ran in Feb 2021. All prices are in GBP.
PCB Only - £35

If you plan to make your own case and plate, this is the option for you. Includes just the PCB with your upgrade options.

Basic Kit - £55

The kit most people will need. Includes a PCB, FR4 Plate, FR4 Bottom Plate and the mounting hardware needed to assemble the keyboard. Just add switches and keycaps and you're good to go.

PCB Upgrade Options

Optional upgrades for your PCB. Any you purchase will come preinstalled on your PCB, and don't require any extra soldering.

RGB Underglow - £5

Adds 10 addressable RGB LEDs to the underside of the PCB for underglow effects.

Included Rotary Encoder and Knob - £8

PCB includes a rotary encoder soldered in place of the top leftmost key on the PCB. Also includes an aluminium knob.
Powered by QMK Firmware
The Tau.4 ships with the powerful, open-source QMK Firmware. QMK allows for customisation of key bindings, LED effects, Rotary Encoders, OLEDs and much more.
Since it's all open source, you can download it and start configuring your keyboard straight away. Simply visit the QMK Docs for instructions on how to download, configure and install the firmware onto your keyboard!
Also, the Tau.4's firmware has now been merged into QMK so you can download premade firmware straight from QMK!
NB: all photos are of prototypes, and may differ from the final product.